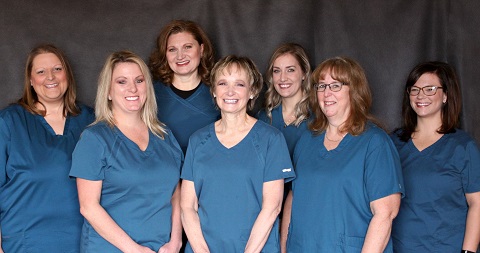 Quincy Dental Center is ready to serve all of your dental needs.
Welcome to Quincy Dental Center of Quincy, IL. Dr. Jennifer Pritts and our friendly, knowledgeable staff are dedicated to making every visit to our office a great experience. Expert dental care is provided with a warm, personal touch in a comfortable, relaxed setting.
At Quincy Dental Center in Quincy, IL, we care about your oral health as well as your overall health. We provide our patients with the personal care they deserve. Dr. Jennifer Pritts welcomes new and repeat dental patients. You can trust the professionals at Quincy Dental Center with all your dental needs. Our affordable and personal dental services are the reasons why we have so many loyal patients.
Jennifer S. Pritts, D.M.D
I grew up in Effingham, Illinois and went to Dental Hygiene school right after high school. During my dental hygiene school, I met my husband and we have been married 20 years and have 5 amazing kiddos. Before the kids, I completed a biology degree from Eastern Illinois University and attended Southern Illinois University School of Dental Medicine, receiving my dental degree in 2008. One of the kids was born before dental school, the twins were born during dental school and the little girls were born after dental school.
Immediately after graduation from SIU SDM, I entered into the United States Army and began a 12 month Advanced Education in General Dentistry at Ft. Campbell, Kentucky. After completion of this residency, I worked in general dental clinic setting on Ft. Campbell from 2008-2013 and at a general dental practice in Clarksville TN at night and on Saturdays for a few years to gain some "real world" experience.
From September of 2010 to August of 2011, I was sent to Afghanistan and performed dentistry at FOB Sharana for the 4th Brigade of the 101st Airborne out of Ft. Campbell. I separated from the Army in August of 2013 and made the move to Quincy, IL to purchase this practice from Dr. LuAnne McClean in November of 2013. Since then, we have been operating as Quincy Dental Center.
Quincy Dental Center
Sandra Cleveland, Registered Dental Hygienist
I grew up in Effingham, IL and moved to Quincy IL right after completing dental hygiene school. I met my husband here in Quincy. We have been married for 30 years and have 4 boys, all grown.
I have worked for the same dental practice for 33 of the 34 years of my career, the last seven years with Dr. Jennifer Pritts. One of my hobbies is to put up a large display of Christmas lights in our yard every year.
Quincy Dental Center
Sue White, Dental Assistant
I have been a dental assistant for 39 years in this same practice. The first 33 were with Dr. LuAnne McClean. When she sold the practice in 2013, I stayed here to work with Dr. Pritts. I have been married to my husband, Dave, for 33 years. We have 2 children: Gabe and Krista and 1 grandson Rowan. In my free time I love to play tennis, pickleball, spend time with my family and take long walks.
Quincy Dental Center
Melissa Young, Dental Assistant
Quincy Dental Center
Julie Duffy, Registered Dental Hygienist
I was born in Wisconsin but raised here in Quincy (Go Green Bay!!) and graduated from QHS in 2004. From there, I attended SIUE and studied PreMed. During my time at SIUE I worked as a receptionist and assistant at a new, very small dental practice in Glen Carbon where my passion for dentistry grew. Going into my senior year at SIUE I decided to transfer and study dental hygiene. I have been a dental hygienist for 11 years now and have worked in Chicago, St. Louis and Quincy. I love to travel and spend time outside with my 110 lb chocolate lab, Beau. Being a single foster parent to kids in need of a safe home is a huge passion of mine.
Quincy Dental Center
Danielle, Registered Dental Hygienist
I was born and raised in Troy Missouri. In 2016, I took a position at an office in Quincy, IL. Originally, I was planning on it being a temporary job as a way to have a change of scenery and new experiences. Little did I know, I would be in the Quincy area permanently.
While working in Quincy, I was blessed to meet my now husband. He is from Camp Point, Illinois and we decided to settle here after being married. My husband and I enjoy traveling with our camper and seeing the countryside.
Quincy Dental Center
Kayla Buchanan, Office Staff
I grew up in Quincy, Illinois and attended a dental assisting program in 2004. The world of dentistry has been my passion ever since! I worked chairside with the dentist for many years and then decided to switch gears and use my knowledge in the administrative part of the practice. So, now you get to see me when you are checking in and out rather than when you are being treated. In 2017, I became a part of the Quincy Dental Center team. When I'm not working, I enjoy reading, cooking and spending time with my husband and two kids.
Quincy Dental Center
Kelli Kropp, Receptionist
Quincy Dental Center